Abandoned Public Schools in Communities Where Kano Government Spent Over N21m
By Hafsat Bello Bahara
In 2020, Kano state government through the Ministry of Education commissioned the repairs and renovation of blocks of classrooms in 3 primary schools in KINCHAU, GUMAKA and YANGIZO communities in Warawa local government as well as the renovation of block A&B in BADAWA primary school in Albasu local government.
The repairs and renovation projects involve fixing wall cracks, damaged floor, and aluminum roofing sheets, electric fixtures, treating Harwood for termite, and adding new steel doors and chalkboards.
Despite the release of N21, 371,035.77 million to execute the projects in December 2020 for the repair and renovation of classroom blocks in the 4 primary schools (Kinchau, Gumaka and Yangizo in Warawa LGA and Badawa in Albasu LGA) the projects were either poorly executed or abandoned by the contractors.
But, the contract award information obtained from the Kano state public procurement website revealed that these projects have been awarded and funds released in December 2020. It also tagged all the projects as completed, 100%.
Primary Schools in Warawa Local Government LGA
Warawa the capital of the LGA is 27.6km away from Kano depending on the driver. The major occupation of the community members is farming.
The major schools in the LGA are Warawa Model Primary School, Warawa Central Primary School, and Gwadogwado Primary School. Other schools are scarttered around some communities including Kinchau, Gumaka, and Yangizo.
Of the three schools listed to be renovated Kinchau, Gumaka, and Yangizo communities by A.M Korau Nig Ltd only one was completed.
Yangizo primary school is the only school that appeared to be in good repair. The window and doors have been changed, the floor and walls have been mended and a new ceiling has been installed.
A spot check of Yangizo primary school showed the classrooms in good condition, the roof and walls are intact and painted with a fresh coat of paint.
This reporter observed that having the necessary equipment and a standard learning environment bolstered the spirit of the staff and pupils alike, despite being in the middle of planting session a large number of the pupils go to school.
A teacher at the school, Usman Zakari Isah said the renovation work was done in 2021 but the Member representing Warawa at the Kano State House of Assembly took the credit while their representative at the federal level was credited with renovating a block of classroom in the school.
When asked if any other project was completed in the school Mallam usman said "the project by our representatives is the only one I have witnessed, they totally transformed the school the only thing we need at the moment is more furniture"
The Yangizo primary school is attended by 700 pupils in high spirits.
Another project, which could be argued to have been executed albeit shoddily is the repair and renovation of classrooms in Gumaka Primary school.
The renovation involved fixing the ceiling, patching wall cracks, installing aluminum roof sheets and fixing the doors and windows.
A visit to the school revealed that the walls are covered in a fresh coat of paint but the roof is caving in and infested by birds and rodents.
Bashir Audi a primary 4 pupil in Gumaka primary school whose dream of completing his education up to the university level to become a civil servant has been shattered. He might never get to finish his primary education as his father has decided it is better for him to follow in his footsteps and become a farmer, rather than continue attending the crumbling school.
Bashir's father, Malam Audi is a self sufficient farmer with 4 children, 3 females and 1 male. Bashir is his only son.
In an interaction, he revealed he needs more hands in the farm to be able to make ends meet but he sacrificed his needs to support Bashir's education.
He said: "Most of the families around here survive on farming, I have a lot of mouths to feed, people keep advising me teach Bashir the family business but initially a refused because my son wanted to study and become the first graduate in the family but the way his schooling is going, I see no point in it, it's better for him to become a farmer like me.
"Everytime it rains, Bashir comes home drenched due to the leaky ceiling at school he might as well follow me and toil the land at least that way he will reap the benefit of the rainy season."
Malam Nasiru, a teacher at the school said: "The ceiling is constantly leaking and some parents have stopped their children from coming to school because of it, at this time of the year parents always stop their children from coming to school. Most parents prefer to go to farm with their children to give them a helping hand.
"I always try to stop that kind of mentality but they don't listen.
"When the renovation was done two years ago, parents and pupils were excited. When the work stopped, the situation returned to its original position. "One block is in worse condition than the rest because of the situation of the ceiling, we need help to make it a serene learning environment again."
The situation of education in Kinchau, a small farming community 
Kinchau Primary School is the only school in the community, it also serves all other neighboring villages; Katarkawa, Alitini and Babbar Riga.
The repair and renovation of the classrooms here involved fixing the ceiling, patching wall cracks, installing aluminum roof sheets, treating Harwood for termite, as well as fixing the doors, electric fixtures and floor.
However, a spot check showed crumbling walls and large chunks of the roof missing. A huge branch of tree in the classroom, it must have fallen through one of the gaps in the roof.
Malam Shu'aibu Mu'azu is a teacher that has spent over 16 years teaching in the school.
He disclosed that no renovation work has ever been carried out at the school, "we try our best to patch up what we can with the help of the community because the state government seems to have forgotten about us.
"One classroom is totally inhabitable, we are afraid the roof will soon cave in on us one day, we are just managing the situation the way it is."
During a visit to the school at study hours, it was observed that many pupils were absent, those present sit on the bare cold hard floor everyday come rain or shine. No sight of any form of furniture. No source of water anywhere around the school.
Kamal Isah a 17 year old pupil in primary 5 gave reasons why most pupils were absent at 11.00am the time this report visited the school on 13 June 2023.
He said: "It takes us about one hour to go to Babbar-Riga to get water to drink when we are thirsty, the water pump in our school doesn't work so we have no choice but to make the trip.
"Each time we take such trip, we miss a lot of class hours but we can't help it.
"The getting water to drink is a big problem, that's why many of us sometimes choose to stay at home and do household chores, and help our parent with their farming activities."
A close observation showed that the only water pump in the school premises was rusted and dried up.
A 16 year old female pupil, Mariya Alitini would have been enrolled in secondary school in 2022, but halfway to achieving her dreams of becoming a Nurse, she dropped out due to the deplorable condition of Kinchau primary school.
She is the apple of her mother's eye, she was almost at the finish line of graduating from primary school last year.
Rayyanatu Alitini, Mariya's mother tells the tale of how her daughter's dreams were squashed due to the poor learning condition of Kinchau primary school.
"I barely managed to convince my husband to let Mariya attend school to secondary level before she gets married. The plan was for her to fulfill her dream of becoming a Nurse.
"Somehow, the condition of the primary school kept getting worse and my husband lost faith in the school system, he decided to stop her education when she was in primary 5.
"I never got to finish school but I dreamed my daughter will get to achieve what I couldn't.
"I prayed she will get a good husband that will support her to realize her dream."
With tears in her eyes she pleaded with the government, "for now, it is over for my daughter but at least let the other children get proper education, all the neighboring schools are doing better than ours, they are modern facilities and infrastructure."
There are over 120 students at Kinchau primary school, whose dream may also be shattered if the situation is not checked.
The renovation contract in all the 3 schools (Kinchau, Yan Gizo, and Gumaka primary schools) in Warawa LGA was awarded to A.M Korau Nig Ltd for the sum of ₦ 16,588,450.00.
A search on the Corporate Affairs Commission (CAC) portal revealed the status of A.M Korau Nig Ltd as Inactive.
If CAC describes a company as Inactive, it means that it has not been carrying out any business or has not made any significant accounting transaction in the last two fiscal years.
It also means that it has failed to comply with sections 417 to 424 of the companies and allied matters act CAMA act of 2020 in filing and updating its annual returns with CAC.
The award of a contract to any inactive company contravenes the Public Procurement Law of 2007 which states that: "A bidder may have its bid or tender excluded if the bidder is in arrears regarding payment of due tax, charges, pensions or social insurance contributions unless such bidders obtain a lawful permit in respect to allowance, the difference of such outstanding payments or payment thereof in installments."
Also, a visit to check on the physical address listed by A.M. Korau (Queens Cinema Airport Road, Kano) in the CAC portal turned out to be a small storefront in a mechanic garage that repairs trucks in the premises of Queens Cinema along Airport Road, Kano.
The storekeeper who spoke with this reporter said he does not have any knowledge of contracts handled by the Company.
In a telephone conversation with Alhaji Korau, one of the Directors of the company, claimed ignorance regarding the schools renovation contract in Warawa LGA and opted to link this reporter with his employee. No response from his employee or the contractor as at the time of filing this report. He did not connect the report with the employee and his phone is no longer reachable.
In the three years, 2020 to 2023 when the renovation contract of Kinchau Primary School was awarded, the project was been abandoned.
The renovation of classroom blocks in Gumaka Primary School is shabbily completed, but the renovation work in Yangizo Primary School is completed.
Bashir Audi's dream of furthering his studies stays alive despite being pulled out of school in favor of farming. Although he misses schooling and learning, he still hopes and prays that he will have the chance to complete his education someday.
Mariya is now a married woman, she has let go off her dreams of being a Nurse. Now she sells salt and seasoning to help her family make ends meet.
Primary School in Badawa, Albasu LGA
Badawa community is the first settlement into Albasu Bordering Hamdullahi village in Albasu LGA. The community relies heavily on farming. The only primary school in the community is surrounded by farm land.
Investigation revealed that no renovation was carried out in Badawa primary school.
The contract for the repair and renovation of block A and B which includes Fixing the roof, installing aluminum roofing sheets, treating Harwood for termites,fixing wall cracks, installing a new floor and fixing the doors and windows at Badawa Primary school was awarded to Tabuka global services for the sum of N4,782,585.77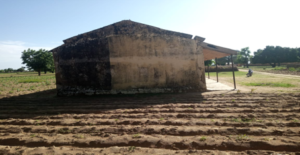 Malam Shukrana Aminu is the headmaster of the primary school. He doubles as the only teacher too catering to over 200 pupils.
He said no renovation work was done by any contractor, that the only repair carried out was sponsored by a Good Samaritan in the community.
"The Hajiya is only person who donates money or building materials whenever we need to patch up the crumbling walls or nail down the roof, or fix the little furniture we have left. The community members too sometimes help me with the repairs but there is so much work to do."
During a spot check this reporter observed the school has only 2 classroom blocks and the six classes, primary 1-6 take turn to share the 2 classes as there is only one teacher in the school. When a class is going on, the rest of the pupils are left on their one, in some cases back home.
Malam Shukrana laments that most parents in the community have stopped allowing their children to come to school after seeing them roaming around idle when a classroom is occupied by other pupils.
"I try my best to keep the school running but I am the only one person and there is always so much work to do. I have to catch up the classes to try and preserve them so they can last longer on top of that I have to teach all the six classes on my own.
"Because of stress, I was hospitalized for months at the hospital, the other time I had a partial stroke, and the doctor says it's because of all the stress I face on a daily basis."
Nafisa Muhd, a primary 4 pupil said she dreams of the day their school will be fixed so they can have a better learning atmosphere.
"I only come to school 3 times a week because I need to help my mother. In the first place, she doesn't want me to come because I only play with my friends as there are no teachers in the school.
"She thinks we don't learn anything but I like school and sometimes it takes malam (Mallam Shukrana) two days before he can teach our class."
A quick search of the status of the company using the Corporate Affair Commission (CAC) portal revealed the company is Inactive.
Section 417 of the CAMA states 'that every company must make and deliver its annual returns to CAC each year. This means both companies have failed to meet up with the obligatory provisions as stipulated.'
Tabuka global services address is listed on the CAC portal to be on No24 B.U.K Road but a physical that was conducted in the cause of writing this report revealed that the address was not in existence.
Residents along the section of the stated address claim to have no knowledge of the company or contractor.
Ministry ignores FOI Request
A freedom of information request was the Kano State Ministry of Education to get a clear and proper picture of how the contract was awarded and also to inquire why the projects were listed as completed despite their current state.
The FoI requested for the factors or reasons for the non-execution of renovation in Kinchau, Gumaka and Yangizo primary schools in Warawa LGA as well as Badawa primary school in Albasu LGA.
Despite acknowledging receipt of the letter, the Ministry is still yet to respond to the request.
Dr. Idris Rogo from Department of Education, Bayero University Kano, said: "Lack of proper infrastructure and condusive learning environment has a direct bearing on the performance of a child, this is why we see mass failure of this children from rural areas in government sanctioned exams.
"A child will learn more when he is in a safe environment and has all the facilities he needs to succeed
"If the funds were prudently managed and the project well executed, the renovated schools would provide a conducive learning environment for thousands of pupils in these schools.
After engagement and dialogue with government officials and the issuance of FoI request that did not receive positive response. This reporter contacted an independent Primary Schools Project Monitor with Human Development Initiative (HDI), Comdrade Ibrahim Garba Maryam.
He disclosed that officials at State Universal Basic Education Board (SUBEB) do not usually release the BoQ documents to anybody not even with an FoI request.
Maryam said: "In 2004 when we monitored some of these primary school projects in Kano was in 2004, I remember vividly how we suffered trying to get the BoQ documents; we did not get it, we were forced to abandon the monitoring exercise."
According to him, in most cases, what his monitoring group discovered was that there are multiple BoQs for such projects (BoQ for the contractor, Ministry Departments and Agencies and that of SUBEB, all have different items and amounts stated therein).
A desk review on the award of contract by SUBEB conducted in https://kanoppb.org.ng/due-process-3/ the Kano State Due Process Bureau website revealed that SUBEB is listed but no detail of its contracts therein https://kano-eproc.eurodyn.com/epps/viewAllAwardedContracts.do this clearly suggests that due process was not followed in the award of the renovation contracts for the 2 primary schools in KINCHAU, GUMAKA and YANGIZO communities in Warawa local government and the renovation of block A&B in BADAWA primary school in Albasu local government.
Bashir Audi in Gumaka primary school, Mariya in Kinchau primary school in Warawa LGA and many other pupils in Badawa Primary School in Albasu LGA are all victims of the incompetence of both companies.
There are over 1000 pupils whose future is in jeopardy due to the inability of these companies to complete these projects.
This publication was originally produced by Prime Time News in Kano with support from the Wole Soyinka Centre for Investigative Journalism (WSCIJ) under the Collaborative Media Engagement for Development Inclusivity and Accountability Project (CMEDIA) funded by the MacArthur Foundation.