CITAD Partners IMS Department, BUK to Commemorate Int'l Day of Universal Access to Information 2023
By Mustapha Salisu
The Centre for Information Technology and Development (CITAD) has collaborated with the Department of Information and Media Studies (IMS) at Bayero University, Kano (BUK) to mark the "International Day of Universal Access to Information, 2023" with a one-day panel discussion.
The event, themed "Importance of Online Space for Access to Information," took place today (Thursday) at the Theatre And Performing Arts Auditorium within BUK's Faculty of Communication.
In his welcoming address, Executive Director of CITAD, Engr. Y.Z Ya'u, represented by the Centre's Senior Programmes Officer, Isah Garba, emphasized the significance of celebrating this annual event, stressing that information is a powerful tool for driving policy change.
Ya'u also highlighted that CITAD's collaboration with the Department of IMS was driven by the esteemed resource persons available in the department. He called upon these experts to ensure the Freedom of Information Act (FOI) is upheld, promoting accountability among public officials and ultimately bolstering democracy and transparency.
Dr. Nura Ibrahim, Head of Department of IMS, stressed the role of access to information as a gateway to knowledge, dialogue, and change. He urged that the online space must be equitable for all, emphasizing the importance of safeguarding the right to information for marginalized communities.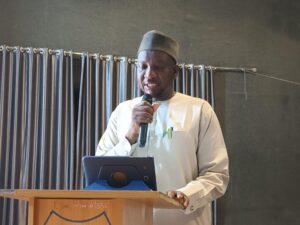 Moderating a three-person panel, Dr. Rukayya Yusuf Aliyu, a lecturer from the Department of IMS at BUK, delved into this year's theme, raising pertinent questions about access to information, the Freedom of Information Act, online space regulation, and Artificial Intelligence.
The panel consisted of Prof. Abdullah Uba Adamu from the Department of IMS at BUK and Barr. Abdurrahman Yusuf Muhammad, a Solicitor at Dikko & Muhammad Chamber, along with Isah Nasidi, Head of Research & Training at the Sahel Centre for Information, Media & Development Research (SCIMDER).
Prof. Abdullah discussed the limitless nature of the online space, emphasizing the need for responsible usage. He cautioned that online actions, whether positive or negative, are documented and can have lasting consequences.
Regarding Artificial Intelligence, specifically on CHAT GPT, Prof. Adamu welcomed the technology but cautioned against total reliance, pointing out its limitations and the importance of human intervention to ensure accuracy and ethical use.
Isah Nasidi highlighted the progress in access to information in contemporary Nigeria, thanks to technological advancements. He noted that digital devices and the internet have simplified access to information in many government entities.
Barr. Abdurrahman Yusuf Muhammad advocated for global regulation of the online space and the domestication of the Freedom of Information Act nationwide. He stressed the need for both self-regulation and regulatory agency oversight.
On the domestication of FOI, he elucidated that the public is not aware of the act which is the biggest challenge and when the National Assembly makes a law, it is binding on both states and local government councils.
Prof. Mainassara Kurfi, Head of Department of Mass Communication at BUK, reminded attendees that "Information is Communication." so without communication, there won't be a society.
Students present at the event were implored by the resource persons to not only harness universal access to information but also use it to combat corruption and promote peaceful coexistence in Nigeria.