Kano-LEADS Honours CP Gumel for Visionary Leadership
By Mustapha Salisu
In a heartwarming gathering, an NGO known as Kano Leadership, Enlightenment and Advocacy For Development Initiative (Kano-LEADS) has chosen to honour CP Muhammed Hussaini Gumel, the Commissioner of Police for Kano State, for his exemplary leadership that has had a transformative impact on the security architecture of Kano state.
Kano-LEADS equally known as "DaRUWANA" hosted a dinner in honour of the CP tagged "Kano Mungode" which was held at the Afficent Event Centre on Saturday.
In his welcome remarks, the Chairman Board of Trustees, KANO-LEADS, Alh. Bashir M. Dalhatu (Wazirin Dutse) said the event served as a platform to celebrate and recognize the remarkable contributions of CP Gumel who has made an indelible mark on the peace and safety of Kano State.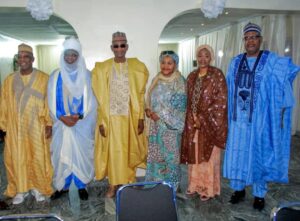 According to Alh. Bashir, in a state as vast and populous as Kano, the task of maintaining law and order is indeed monumental. The diverse communities, challenges posed by rapid urbanization, and ever-evolving security threats make the role of the police a formidable one.
"CP Gumel's commitment to adapting to changing dynamics of crime and engaging with the community has played a pivotal role in creating a safer and more secure environment for the people of Kano" stated the BOT Chairman.
Also in her address Haj. Aisha I. Dankani, President of KANO-LEADS, said the organization recognized the Commissioner for two outstanding achievements that exemplify his visionary leadership.
"First, CP Gumel's initiative to convert 50 repentant individuals, who were once involved in criminal activities, into police special constabulary"
"Secondly, CP Gumel has been a staunch advocate for community policing. His leadership has strengthened the bond between the police and the communities in Kano. This collaborative approach has not only improved security but has also cultivated shared responsibility and trust" disclosed the President.
While commending CP Gumel's accomplishments, the President also urged him to prioritize addressing the growing issue of rape in the communities.
Also speaking the Emir of Kano, Alh. Aminu Ado Bayero represented by Sarkin Dawaki Mai Tuta of the Emirate commended "Kano-LEADS" for taking the lead in identifying and honouring this committed Commissioner of Police who positively transformed the policing architecture of the State through the employment of a citizens-led policing approach.
In his response, the celebrant, CP Mohammed Usaini Gumel appreciated Kano-LEADS' commitment for finding him worthy of being honoured.
He further revealed that when he assumed office, He promised his personnel that they were going to operate under three pillars which are Open door policing, zero tolerance for corruption and professionalism.
"Also this aspect of youths transformation who were into crime or were used by someone for the commission of crime, we try to reform them in the best way that the law of the land permits. The Special Constabulary that saw has been inaugurated, fifty (50) of them are volunteers after helping us. They have no criminal records in any of our Divisions" Gumel revealed.
The CP elucidated that he was able to achieve this after consultation with stakeholders and members of the community from the eight (8) LGAs within Kano Metropolis who in turn gave him names of influencers that normally mobilize the youths to commit crimes.
"We are watching them, everybody has seen how Kano is safe now and we are confident that Kano will continue to be safe" Gumel assured.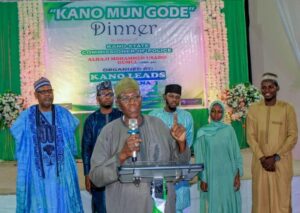 PRIME TIME NEWS reports that dignitaries present at the event include Chief Imam of Al-Furqan Mosque, Kano, Shaikh Prof. Bashir Aliyu Umar, Head of Security Agencies, Managers of Media Organizations among other invited guests.