Monday Market: Zulum asks committee to fast-track reconstruction
From Sani Gazas Chinade, Maiduguri 
Governor of Borno State, Babagana Umara Zulum, has charged a high-powered committee to speed up ongoing reconstruction of Maiduguri Monday market towards resumption of traders for business activities.
Governor Zulum gave the task in Maiduguri during an unscheduled visit to assess progress of work at the market.
The Maiduguri Monday Market, a bustling centre of trade and commerce was severely impacted by a fire disaster on the 26th of February, 2023. The wild fire razed the market completely with property worth billions of Naira destroyed.
Zulum in response took measures including the release of N2 billion in February to a committee he constituted. The governor doled one billion for allocation to victims of the fire disaster as palliative while construction work began immediately. 
Some prominent citizens and friends of Borno State made donations which the governor said was going into a special account. 
Zulum had visited the market a number of times to supervise reconstruction works.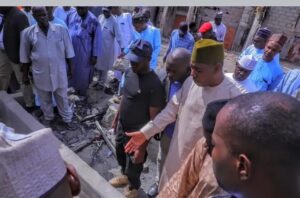 At his latest visit during the weekend, the governor emphasized the importance of completing the project as quickly as possible in order to minimize economic sufferings already faced by traders and residents who rely on the market for their daily needs. 
Timely completion of the Monday Market reconstruction would not only restore economic activities but also boost the morale of residents, the governor said.
Also during his weekend visit, Governor Zulum directed the high-powered committee to strictly work with the original master plan of the market in the cause of their work. 
Zulum noted that compliance with the original master plan would be part of measures to prevent or mitigate against fire disasters in future. 
Meanwhile, Governor Babagana Umara Zulum has expressed satisfaction with ongoing reconstruction works at the Maiduguri Monday Market and confident of a speedy completion. 
He assured traders and residents that when completed, the reconstructed market should have improved facilities for a vibrant economic environment.