NSSEC organizes capacity building workshop for English/Mathematics teachers in North West Zone
By Mustapha Salisu
The National Senior Secondary Education Commission (NSSEC) is taking steps to enhance the quality of education by adopting global best practices. In this pursuit, the NSSEC has organized a five-day Capacity Building Workshop for selected teachers in English language and Mathematics in the North West Zone.
The workshop, themed "Tackling the difficult concepts in English Language and Mathematics," is currently taking place at the Grand Central Hotel in Kano, Kano State, from July 17th to 22nd, 2023. Its primary objective is to cover a wide range of curriculum topics in these two subjects.
Dr. Iyela Ajayi, the Executive Secretary of NSSEC, emphasized that the workshop aims to improve the teachers' knowledge and pedagogical skills in their respective subjects. The goal is to transform the teaching dynamics from conventional approaches to result-oriented methods, ensuring effective delivery of the curriculum.
"To meet its mandate of ensuring minimum standards in Senior Secondary Schools, NSSEC has developed a Teaching Manual for Mathematics and English Language teachers. This manual enhances the teachers' methodology and pedagogical skills in these core subjects" Iyela disclosed.
Dr. Ajayi emphasized the Commission's commitment to aligning with WAEC standards. It aims to ensure that both students and teachers have a clear understanding of the logical, meaningful, and balanced presentation of ideas in English language and the proper interpretation of mathematical theories and questions.
Representing Kano State Governor, Alh. Abba Kabir Yusuf, the Permanent Secretary of the Ministry of Education, Haj. Kubra Imam, expressed gratitude to NSSEC for selecting Kano State as the host for this capacity building workshop.
Governor Yusuf urged the participants to fully engage in the training and share the knowledge acquired with others who could not attend.
Participants from different states, including Nasiru Abubakar from Jigawa State and Hajara Mahmud from Kano State, recognized the significance of the workshop.
They highlighted the existing knowledge and capacity gaps among English and Mathematics teachers, which are crucial subjects for admission into tertiary institutions.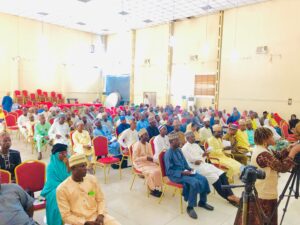 They expressed their anticipation of learning new strategies and concepts during the workshop, which they intend to implement effectively upon returning to their respective schools.
PRIME TIME NEWS correspondent Mustapha Salisu reported that this workshop marks the Second Edition organized by NSSEC, with the cooperation of the Federal Ministry of Education. The ministry has consistently provided support to enhance educational delivery.