Plateau Dep. Governor Piyo tasks Christian leaders on unity
From Tongnaan Bawa, Jos
Plateau State Deputy Governor,  Josephine Piyo has urged Christian leaders to promote unity and peace within the body of Christ and in the state.
Piyo gave the charge during the inauguration of the new officials of the Plateau Chapter of the Pentecostal Fellowship of Nigeria (PFN) in Jos on Monday.
Applauding the numerous contributions the fellowship has made in the areas of denominational cohesion, peace, and others, she charged them to imbibe and promote the spirit of brotherliness and remain steadfast in the pursuit of unity and progress.
She also charged them to build bridges across religious and cultural divides and realise that our strength lies in our collective efforts.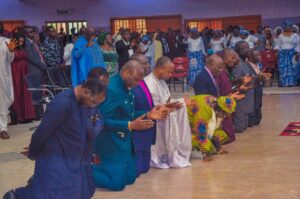 The Deputy Governor also admonished the elected executives not to forget the noble teachings of Jesus Christ, who emphasized love, peace, and service to humanity, stating they must translate the teachings into action by extending a helping hand to the less privileged, speaking out against injustice and corruption and promoting a society that values the dignity and rights of all citizens.
Piyo while congratulating the new officials, urged them to keep praying for the peace of Plateau state while emphasising that the Mutfwang-led administration will continue to work round the clock to find solutions to end the cycle of killings in state.
In a sermon, Bishop Wale Oke, enjoined the elected officials to strive to keep the bond of peace, noting that God commanded his people to love one another.
Oke urged them to continue to propagate the teachings of Jesus Christ and pray for the restoration of peace in Plateau State.