Emulate late Gen Abba 3-3, Emir of Zazzau charges upcoming generation
From Abdullahi Alhassan, Kaduna
The Emir of Zazzau, Ambassador Ahmed Nuhu Bamalli, has charged the upcoming generation to emulate the virtues of the late Major General Abba Abdulkadir, popularly known as Abba 3-3.
Bamalli made the call at the book launch of "Abba 3-3 and Family" in Kaduna. He described the late general as an exemplary leader who served the public and the military with distinction, working tirelessly to ensure the unity and safety of the country during his lifetime.
"This is one of our heroes who worked tirelessly to ensure the unity of this country," Bamalli said. "We encourage writing books on the history of people like the late general, so the upcoming generation can know how our forefathers worked to ensure the unity of our country, which is commendable."
The author of the book, Hajiya Kilima Abba, said she was motivated to write it by an innate urge to commemorate her late father and to share his story with the world.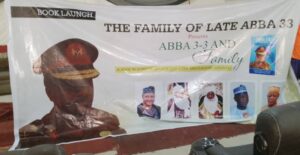 "I have authored a number of creative writings," she said, "but an innate urge kept telling me to commit the history of our late father into writing. That is what informed the writing of this book."
The book is a compilation of testimonies and information about the late general and other members of Abba's immediate and extended family, as well as the general public.
Kilima thanked dignitaries who attended the book launch, including General Ibrahim Badamasi Babangida, General Ali Gusau, the Emirs of Katsina, Zazzau, and Kano, and the chief launcher, her husband Alhaji Kassimu Musa Bichi, for their support and encouragement.
She also thanked the members of the book launching committee for their support.