Glitz Fair empowers business start-ups in Kano State, showcasing entrepreneurial potential
By Mustapha Salisu
The Glitz Fair, a renowned platform for entrepreneurs to showcase their business potential, has once again provided opportunities for  business start-up founders in Kano State.
The two-day fair, held from 24th to 26th June at the Afficent event centre, attracted entrepreneurs from various industries, offering a diverse range of talents.
During an interview with PRIME TIME NEWS at the fair, Maryam Adamu Ladan, CEO of MAKs Collection and a prominent vendor, highlighted the significance of the Glitz Fair as a platform that allows small and medium-sized enterprises (SMEs) to exhibit their talents.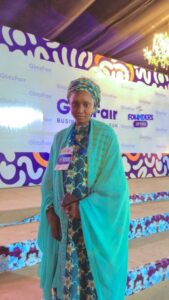 Our Correspondenct learnt that among the showcased businesses were tailors, chefs, schools, and many others.
Maryam, who is a fashion designer specializing in ready-made clothes, ribbons, and textiles, shared that she discovered the Glitz Fair through close friends within the industry. With five years of experience in the fashion design industry, Maryam expressed her excitement at the opportunity to participate in the fair.
When asked about the registration process, she explained that the event hosts provided a contact number in their advertisement flyers, along with guidelines for securing a stall through payment. Upon completing the payment, participants were assigned a tag and given a choice between an indoor or outdoor stall.
Maryam further revealed that her participation in the Glitz Fair has not only contributed to her success story but has also allowed her to establish valuable networks within the fashion design industry and beyond.
"These connections have opened doors for collaboration and growth in her business" she revealed.
Encouraging women to embrace innovation and cultivate an entrepreneurial mindset, Maryam urged them to seek opportunities to support themselves, their families, and even create employment opportunities for others.
The Glitz Fair continues to serve as a pivotal platform for business start-ups in Kano State, fostering economic growth and showcasing the immense talent and potential of local entrepreneurs. With each passing year, the fair paves the way for aspiring individuals to thrive and make their mark in the business world.
As the Glitz Fair concludes, participants and visitors alike are left inspired by the vibrant entrepreneurial spirit and hopeful for the future of Kano State's business community.