Governor Yusuf presents N350bn budget for 2024
Kano State Governor Abba Kabir Yusuf has on Friday presented a N350 billion budget proposal for the 2024 fiscal year to the state House of Assembly.
The budget, tagged "Budget of Restoration and Transformation," allocates N215.8 billion for capital projects and N134.4 billion for recurrent expenditure.
The education sector received the largest share of the budget, with N95.3 billion allocated to it.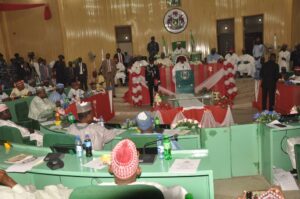 Other key sectors that received significant allocations include health (N51.4 billion), works (N40.4 billion), agriculture (N11 billion), and water resources (N13.4 billion).
The governor said the budget is focused on restoring and transforming the state through investments in key infrastructure, social services, and economic development.
He also promised to block possible leakages to ensure prudence, accountability, and transparency.
Gov. Yusuf expressed confidence that the budget will help to achieve his administration's vision of making Kano a leading state in Nigeria in terms of economic development, social welfare, and quality of life.