Int'l peace day 2023: Governor Mutfwang set to partner Peace practitioners to achieve a conflict free state
From Tongnaan Bawa, Jos
Plateau State Governor Caleb Mutfwang said his administration is ready to partner and with peace practitioners and stakeholders to overcome violent conflicts in the state.
The governor gave the assurance  at a town hall meeting organised by Plateau Peace Media Network  in Collaboration with the Plateau Peace  Practitioners  Network  on Thursday, at  Crispan Hotel Jos.
Represented by the commissioner of Information and communication, Musa Ibrahim Ashoms, at the occasion of International Day of Peace 2023 titled, "Action for Peace: our ambition for the global goals" described peace as catalyst for sustainable growth and development.
"The message is targeted on peace because without peace a lot of things cannot be achieved. If you have a rocket science ideas and the environment is not peaceful and its ambience is without tranquility, naturally you achieve little or nothing"
"We want to thank the organizers especially the United Nations for spearing this day for us to put our heads together to ensure peaceful coexistence as a people. He maintained.
Governor Mutfwang also admonished all citizens to live in peace to create room for development, stressing that  peace remains the catalyst for growth and development, adding that  Without peace no development can take positive effects".
The coordinator, Plateau Peace Media Network, PPMN,Mathew Tegah revealed that they firmly believe in the power of informed and responsible media engagement as a catalyst for peace and positive change. 
"We understand the role of media in not only reporting on conflicts but also in actively contributing to their resolution. Through various trainings, we have learned that peace is not a passive state; it requires vigilance, dialogue, and above all, actions"
"Today, let us confront these challenges head-on, but let us also seize the opportunities they present. Through our discussions and shared experiences, we can identify prospects for peace and
innovative solutions to the challenges we face."
On his part Secretary, Plateau Peace practitioners Network, PPPN, Nehemiah Michael, said since 2001 peace on the Plateau has been broken, and part of the reason why conflict continued escalating overtime in the state is as due to lack cooperation and proper  bonding together  with sincerity of purpose of various peace practitioners, state and non state actors.
Prime Time News reports that the International day of peace 2023 was organized by Plateau Peace Media Network in collaboration with Plateau Peace Practitioners Network with the sub-theme:Actions for peace: the prospects and challenges for addressing the multidimensional crises in Plateau State.
Highlight of the event were panel discussions on issues bothering or affecting some of the local governments in the state that are prone to constant attacks and how best mediation can create or promote lasting peace in such areas.
There was also dance drama by young peace actors in primary and secondary schools on life in Nigeria since time immemorial through different stages of governance.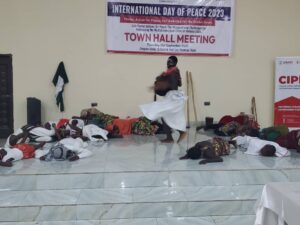 There were good will messages from various stakeholders,
Director of Press and Public Affairs to Governor Caleb Mutfwang, Gyang Bere, said peace is inevitable, therefore, it must be sustained for progression.
Chairman of the Nigeria Union of Journalists Plateau State Council, Ayuku Manasseh Mutfwang, represented by her vice Chairman Pam Musa, called for continued peace, unity of purpose for progressive development, growth and good governance in the state.
Others were religious leaders, traditional rulers, National orientation agency, peace building Agency, security agencies, civil societies and youths who were in majority.