Kano govt to partner with stakeholders to empower women – Dantiye
Kano State Commissioner of Information, Baba Halilu Dantiye, has emphasized the importance of empowering women, stating that it is not only a moral imperative but also an economic and social necessity.
"Every society must ensure women have equal access to opportunities and active participation in various sectors," Dantiye stressed during a courtesy visit by the members of Women Empowerment Initiatives nationwide to his office.
The Commissioner expressed his full support for the initiatives of Women Empowerment Initiatives Nationwide, which encompass mentorship programs, skills development workshops, and awareness campaigns aimed at addressing the unique challenges women face in society.
"These initiatives are essential for promoting gender equality and empowering women to reach their full potential," Dantiye said.
"I am confident that they will make a significant difference in the lives of many women in Kano State."
Dantiye also announced the government's commitment to partner with all stakeholders to implement practical and impactful strategies to empower women and promote their participation in all sectors of society.
In another development, the members of Kwankwasiyya Ambassadors Youth Forum paid a courtesy visit to the Kano State Commissioner of Information, Baba Halilu Dantiye, in his office.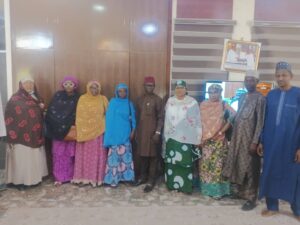 Alhaji Ali Bature, the Chairman of the Forum, explained that their purpose is to support youth by empowering them to become self-reliant and to assist students with uniforms and educational materials.
The Commissioner commended the forum for supplementing the state government's efforts in improving the quality of education in the state.