Kano NGO tackles climate change with awareness walk, recycling initiative
By Mustapha Salisu
In an effort to raise awareness about climate change issues, an NGO, the Kasham Girls Women Youth and Community Development Network (KGWYCDN) organized a road walk in Kano state on Saturday.
The walk was part of the organization's project tagged "Clean up, use up" CUP 2023.
Speaking to reporters during the event, KGWYCDN Executive Director, Dinatu Dama Maji explained that the climate change awareness campaign focused on educating youths about the importance of recycling and the specific impacts of climate change in Kano.
"In other states, climate change is often viewed from the perspective of tree planting, but in Kano state, we want to change the narrative of climate change to include picking up polythene bags from the streets and drainage systems, as well as sharing knowledge about recycling," Maji stated.
"If we achieve this, we can eradicate or significantly reduce flooding in Kano state," she added.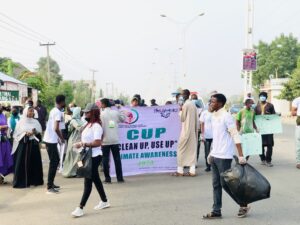 Maji also announced that following the awareness campaign, 100 participating youths will be selected to receive both theoretical and practical training on recycling waste, particularly polythene bags, by visiting recycling facilities in the state.
The Executive Director urged Kano state residents to support the efforts of these climate change champions and contribute to making Kano a better place.
According to PRIME TIME NEWS correspondent, the awareness walk included members of the National Youth Service Corps (NYSC), various youth development groups, and entertainers.