KNSG affirms strong dedication to Open Government Partnership
Kano State Governor, Alh. Abba Kabir Yusuf, has reaffirmed the government's dedication to promoting transparency and open governance by pledging support for the activities of the Open Government Partnership (OGP).
In a meeting held at the Government House today, the governor expressed his enthusiasm for collaborating with the organization to enhance transparency, accountability, and citizen engagement in governance.
Represented by his Deputy, Comr. Aminu Abdussalam Gwarzo, Governor Yusuf welcomed a delegation from the Open Government Partnership and emphasized the significance of the OGP's principles.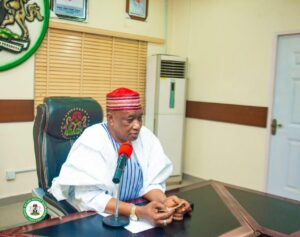 He stressed the importance of open and inclusive governance processes in Kano State, highlighting the government's commitment to creating an environment where citizens can actively participate in decision-making processes and ensuring transparency and accountability at all levels.
Halima Ben Umar, a member of the steering Committee of OGP, Kano, spoke on behalf of the delegation and explained the purpose of their visit. She stated that their intention is to revive the activities of the organization, which had not been functional for almost two years.
She also mentioned that their gesture aligns with Governor Abba Kabir Yusuf's administration's blueprint, which includes the Open Government Partnership (OGP). "The organization aims to assist the government in the fight against corruption for the well-being of Kano state citizens" she disclosed.
Umar further informed that the OGP has a platform called 'Tracker' that will aid in monitoring the government's blueprint. The organization seeks the support of the Kano State Government to promote and utilize this platform, which will contribute to attracting global recognition of the OGP in Kano state.
The delegation from the Open Government Partnership further commended Governor Yusuf and the Kano State Government for their commitment to transparency and open governance.
Among the requests made by the organization, they sought the establishment of a secretariat as well as a steering committee comprising representatives from the government and civil society organizations.