Nguru Education Secretary: Rejuvenating education section is responsibility of all
From Tijjani Mujaheed, Yobe
In an effort to chart a new course for basic education in Nguru Local Government Education Authority, Acting Education Secretary Alhaji Hamisu Ado Nguru has summoned all critical stakeholders in the sector to brainstorm on how to improve education throughout the local government area.
Addressing the gathering, the Education Secretary admonished the mammoth crowd that all hands must be on deck to take education to all corners of the state.
"Right from the inception of Governor Buni's administration, he declared a state of emergency on basic and secondary education," Ado said. "This single action spells out the government's priorities, which is education."
"With your support, the sky is the limit for our younger generation," he added. "What we are doing now is providing a level playing field."
Ado also said that the Yobe Commission on Basic and Secondary Education and the Chairman of the Yobe State Universal Basic Education Board, Professor Musa Alabe, are appealing to all and sundry to queue in and provide support in terms of providing quality education at every level. He emphasized that education is a responsibility of all.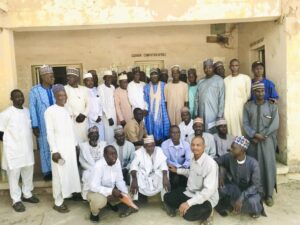 Shortly after the meeting, the Acting Education Secretary embarked on a tour of selected school communities with representatives of critical stakeholders, such as the Nigeria Union of Teachers and School-Based Management Committees (SBMCs).