Plateau Governor, Mutfwang flags off National Immunisation Plus Days' Campaign, calls for total compliance
From Tongnaan Bawa, Jos
Plateau state Governor, Caleb Mutfwang, has flagged off the National Immunisation Plus Days Campaign in Jos to combat the spread of polio virus in the state.
Mutfwang, represented by the deputy governor, Josephine Piyo, while flagging off the immunisation on Friday, stated that the campaign aims at boosting populations immunity and prevent the transmission of circulating variant poliovirus (CVPV2) in the state.
In a statement signed by the Chief press secretary to the Deputy Governor, Martha Nyam, said Governor Mutfwang, appreciated the courage and commitment of UNICEF, Plateau State Primary Health Care Board and other partners in delivering healthcare services to the children in the state.
He said the campaign was a testament of his administration's dedication to the well-being of citizens and the sheer commitment to achieving universal health coverage and complete overhaul of the health sector.
The Governor called on all parents and guardians to ensure that their children receive the polio vaccine and other routine immunisations from September 30 to October 3, 2023.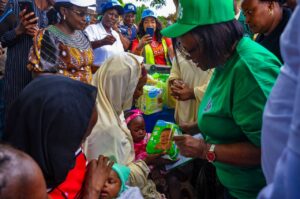 The Executive Secretary, Plateau State Primary Health Care Board (PSPHCB) Dr Raymond Juryet, in a remark said that task force on immunisation under the chairmanship of the Deputy Governor, Josephine Piyo, has been reactivated to protect children in the state from killer and debilitating diseases.
Juryet stated that the PSPHCB in the new administration is doing things differently to ensure total immunisation coverage in the state.
He revealed that the immunisation flag-off was taking place across all local governments in the state to immunise children between the ages of 0-59 months against polio and other illnesses.
The Executive Director, National Primary Healthcare Development Agency, Dr Faisal Shuaibu, appreciated the Plateau state government and the PSHCB, for making sacrifices to reach out to all children in Plateau to see that they are protected from killer diseases.
Shuaibu, represented by Laminu Nuru, said that some states were facing serious health emergencies due to diphtheria and the new polio variant, urging the state to beef up health surveillance to prevent an outbreak.
Nuru revealed that the new poliovirus variant (CVPV2) has been reported in Borno state, stating that effort must be made to ensure that Plateau state was protected.
The Commissioner of Health, Plateau State, Dr Cletus Shurkuk, encouraged mothers and guardians to always vaccinate their children to avoid deformities that would incapacitate and affect them negatively.