'Unburden with FSaadina' hosts maiden edition of All Teens Brunch 2023, focusing on adolescent issues
In a groundbreaking initiative aimed at educating and raising awareness among teenagers, the psychological consultative firm 'Unburden with FSaadina' organized its maiden edition program, 'All Teens Brunch 2023.'
The event, held on Saturday at the Meena Event Centre in Kano state, drew over 1000 teenage boys and girls from across the country.
Themed "Sexual Assault and Substance Abuse (SASA)," the one-day mentorship program addressed critical issues affecting adolescence.
Founder Haj. Fatima Saadina Dantata expressed her excitement about the unique nature of the initiative, highlighting its significance as the first of its kind in Kano.
According to Fatima, the primary objective of the program was to provide therapeutic solutions to women and girls worldwide, focusing on marital/premarital counseling, fertility coaching, and mentorship programs.
Additionally, the event aimed to foster social connections, promote personal growth, and offer a safe platform for shared experiences by bringing together teenagers from diverse backgrounds.
The lecture series of the event centered on two crucial topics: "Sexual Assault" and "Substance Abuse." Renowned experts, including Islamic scholars, psychologists, doctors, communication experts, rehabilitators, and representatives from governmental and non-governmental organizations, delivered insightful talks on subtopics within these areas.
Notable speakers included Dr. Abdallah Gadon Kaya (represented), Aisha Farouq Gumel, Dr. Bashir Aliyu Umar, Nasirudeen Shuraim, Muhammad Y. Gorki, Huwaila Ibrahim Esq, Mrs. Saada Usman, Abubakar Mai Tumaki, and Qalb Saleem, among others.
The event was not all serious discussions, as attendees were treated to a delightful brunch and entertaining performances by Ahmerdy, Namenj, and Amb. Nasiru Dantata.
Additionally, engaging quizzes and an award presentation to the winners added an element of excitement and competition.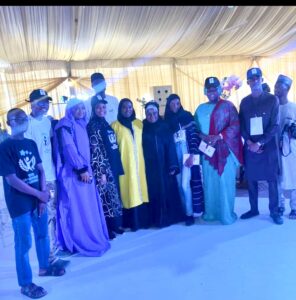 Also several NGOs were present at the event, notable among them are: Kano Leadership Enlightenmeent and Advocacy for development initiative (KANO LEADS), Teens Development Initiative among others
PRIME TIME NEWS correspondent reports that the success of the maiden edition of 'All Teens Brunch 2023' marks a significant milestone in the efforts to address the challenges faced by teenagers, particularly regarding sexual assault and substance abuse.
'Unburden with FSaadina' has set a commendable precedent with their comprehensive approach, combining education, mentorship, and entertainment to create a positive impact on the lives of young individuals.